Enjoying nature
… design your vacation to your heart's content - gain new life energy through exercise and relaxation in nature!
Activities in the surroundings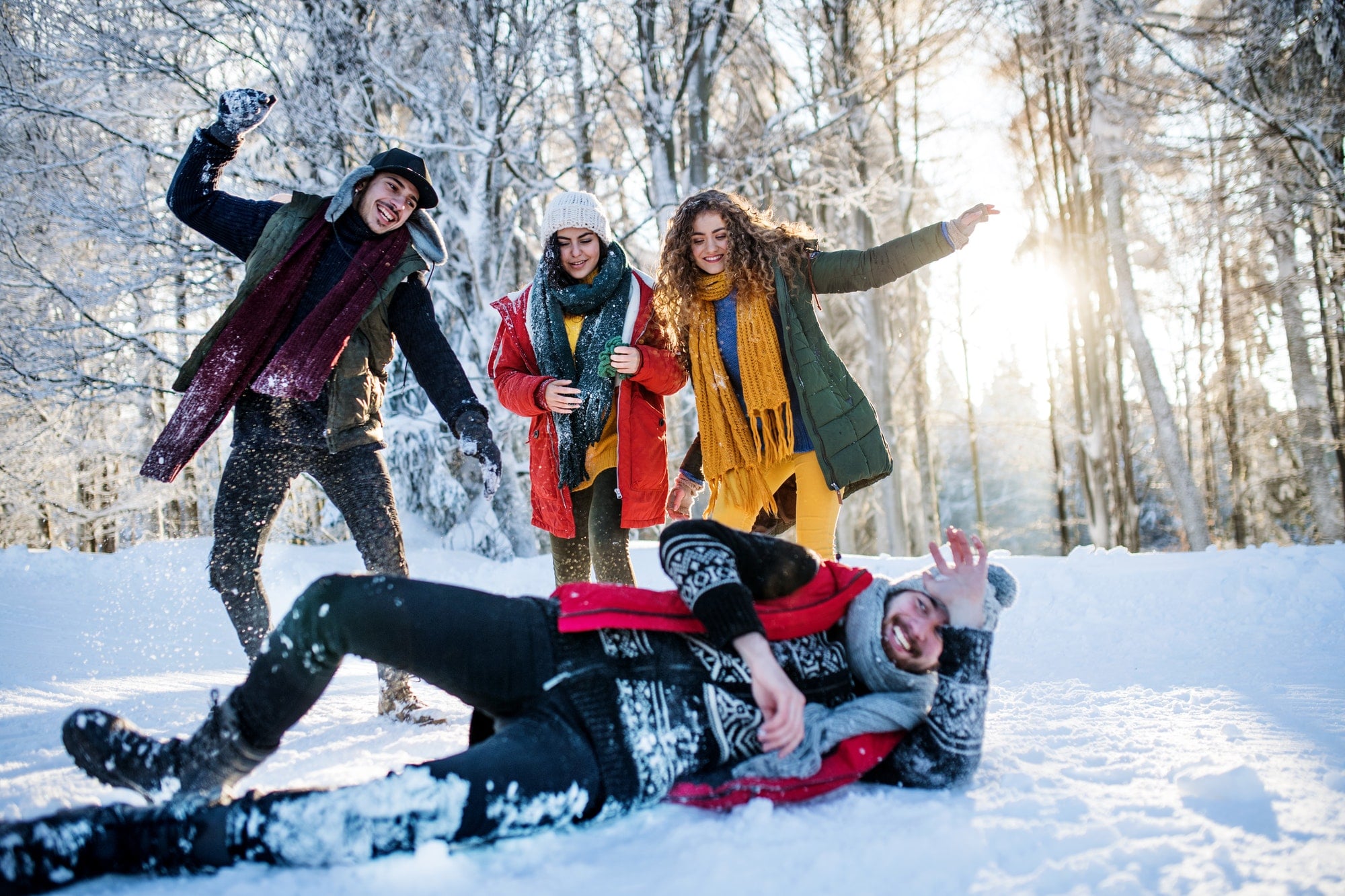 Closely experiencing winter in Hollersbach
Panoramabahn Kitzbuehler Alpen 3 km
At the bottom station of the Panoramabahn Kitzbuehler Alpen there is a huge free-of-charge parking and a service centre. Next to a professional ski shop with ski rental, a ski school and a sports doctor's surgery you'll find a high-quality restaurant.
The Panoramabahn takes you to the peak of the Resterkogel within a few minutes. There, the unique Kitzbuehl skiing area awaits you with 215 km of perfectly groomed pistes, with over 50 lifts and cable cars, the snowpark Hanglalm and countless off-piste tracks. Experience the new dimension of ski safari. From Hollersbach to Kitzbuehl, with the 3-S-gondola you are floating 400 metres above ground. Each year, there is the legendary Kitzbuehl race from the Streif.
Traditional, cosy ski huts perfectionate the day, be it with Kaiserschmarrn, Kasnock'n or a mug of tea with rum. In good snow conditions, you can reach your apartment directly from the middle station and across our fields.
Smaragdbahn Bramberg am Wildkogel 8 km
Wildkogelarena – a much liked skiing area for families that does not leave any wish unfulfilled. A special highlight is the world's longest and lit tobogganing run, 14 km for beginners and pros, sleighing from more than 2000 m altitude directly into the valley, also open on Tuesday and Friday nights.
Other surrounding skiing areas we recommend:
Kaprun Kitzsteinhorn 30 km
Zell am See 35 km
Zillertal Arena 35 km
Weißsee Gletscherwelt 40 km
Also, we can offer
cross-country-skiing in the valley: Pinzga Loipe and Blizzard Loipe
tracks in the high moor with spectacular views on the peaks of the Nationalpark Hohe Tauern
ski mountaineering, snowshoeing, game watching in Habachtal, natural tobogganing run Berghof in Hollersbach, a visit to the Nationalpark Center
horse sleighs, ice-skating, horse-riding, tennis and squash
Krimml Waterfalls are also in winter a spectacular natural sight
romantic winter stroll through snow-covered landscape
or a funny slide on the slope of our farm
Relaxation and wellness
Light, warmth, Austrian pine. In our Finnish sauna made of Austrian pine with infrared lamp you can give yourself a good time. Relaxation for body, mind and soul. Sweating in the sauna is beneficial for our health and strengthens the immune system.
Fun bathing and wellness
Kristallbad Wald 18 km
Tauern Spa Kaprun 30 km
Pleasure and culinary art
There are a lot of restaurants in our vicinity like the Oberkrammern Alm, Sunnseit, Weyerhof or Panorama Gasthof Hohe Brücke which treat our guests and which we are happy to recommend.
If you like cooking yourself, the new kitchen in our deluxe apartments Kitz Alpen Lodge and Panorama Lodge are perfectly equipped. There you will find a big fridge, an oven, an induction cooker, WMF pots in various sizes and a good selection of Tupperware products.
We have our own water well, therefore fresh, natural water is a given fact for us.
A coffee machine is there for you and upon request our local backer supplies you with fresh bread.
Book your holiday with us on Gutshof Klausenstein and experience the winter!
Spring, summer and autumn in the unique holiday region National Park Hohe Tauern and in the wonderful Kitzbuehl Alps
Nationalpark Hohe Tauern
The national park Hohe Tauern belongs to some of the most wonderful high mountain landscapes of the world. The regions from the valley to the 3,000-metres high peaks are home to an incredible variety of species. There is a richness in fauna and flora. Discover this fascinating nature and wildness in the middle of Europe!
You will find a range of high-quality interactive visitors' bureaus and educational institutions which will complete your visit and will deepen the knowledge about ecological, socio-cultural and economic contexts of our national park.
Nature trail along creek into Hollersbachtal
An inspiring walk along the mountain creek heading for lush meadows and cosy Alpine huts.
Smaragdweg Habachtal
In the Habachtal, there is an inoperative emerald mine. The Queen of England's crown comprises an Emerald from the Habachtal! Curious for more? Go on an unforgettable mountain tour from Hollersbachtal into Habachtal, the views in heights of over 3,000 metres are just breathtaking!
Panormabahn Kitzbuehler Alps
With the Panoramabahn you will be on the Resterhohe and inmidst the Kitzbuehler Alps within a few minutes. Besides a spectacular view an almost infinite hiking and biking Eldorado awaits you. At an altitude of about 2,000 metres the National Park commission has established a "window on the National Park". Here, visitors can get information about the remarkable world of peaks and indulge in the mountainous landscape and its originality.
Gaisstein
one of Europe's highest grass-covered mountain, offers a wonderful hike with spectacular views.
Moor-Adventure Wasenmoos
Discover rare plants and animals during a walk through unspoilt nature with tremendous views into the Nationalpark Hohe Tauern.
Bee nature trail
The exciting bee trail is an interesting round trip for the entire family and only some minutes from our farm.
Pihapper
The wonderful Pihapper can be seen from our balcony, it offers an unforgettable mountain hike up to 2,500 metres.
Family adventure
If you and your family are up for adventure – adventure play ground, sliding paths, mountain cart, paragliding and cave walks on the Wildkogel are there for you.
Schoesswendklamm
This hike starts directly at the newly designed viewing platform Schoesswendklamm. It impressively shows which enormous power lies behind water as a natural force. For thousands of years water has been flowing across smaller and bigger water falls and thus formed the characteristic funnel and kettle shaped indentations into the stone of the Schoesswendklamm. The hike's destination is the Hintersee. Smoothly embedded into the rock faces this mountain lake came into existence through a tremendous rockslide. The lake's water is clear to the bottom.
Golf course in Mittersill
Situated within the varied Alpine landscape you will find the beautifully laid out and carefully-tended golf course for different expert levels.
Weissee Gletscherwelt Uttendorf
Exciting trip – mountains, lakes and glaciers – walking, hiking, mountaineering and climbing – getting to know interesting details about climate and weather – all in the Weisseee Gletscherwelt.
Krimml Waterfalls
Closely experiencing the incredible power of water – falling from a height of 380 metres the Krimml Waterfalls rank amongst the most impressive natural sights world-wide.
Hochgebirgsstauseen Kaprun
In the heart of the Hohe Tauern and at very high altitude there are these impressive buildings – the dams forming the water reservoirs. Visit the two reservoirs on 2,000 metres above sea level, you will find magnificent natural landscapes, a traditional mountain hut and information to all interesting issues concerning hydro-electric energy production.
Obersulzbachtal Neukirchen
Lake Blausee, Venedigerweg hiking trail – a visit at the Berndl Alm is our favourite tip!
Get refreshed on hot summer days
Natural swimming lake and leisure centre Hollersbach, outdoor swimming pool Mittersill or Muehlbach, Kristall Bad Wald, Erlebnisbadesee Uttendorf, outdoor swimming pool Krimml – to mention just a few possibilities in our vicinity.
And even more sports
E-bike and mountain-bike hire at the bottom station of the Panoramabahn Kitzbuehler Alpen in Hollersbach. Apart from this, there are numerous other possibilities for you: mini golf, bow-and arrow-village, squash, tennis, Alpine Coaster, beach-volleyball, climbing, flex-wing, and many others.
Nationalpark Centre, museums and other places of excursion
The most up-to-date Alpine national park centre with an exhibition area of 1,800 square metres and an exciting 3D-cinema is there for you in Mittersill.
Museum of minerals in Wald
Kulturplatz Felbertrum Mittersill
Celtic village in Uttendorf
Norikermuseum Niedersill
Nationalpark-Ausstellung "König der Lüfte – Kings of the Skies" Rauris
Oldtimer Museum Kaprun showing vintage cars
Rauriser Talmuseum
Nationalpark Exhibition "On mountain huts – Between sky and earth" in Huettschlag
Water worlds and Krimml Waterfalls
Game park Aurach
Game- and Adventure Park Fusch/Ferleiten
Gold panning Bodenhaus Rauris
Offers more than 60 attractions and a maximum of mobility in the time between May 29 and October 31.
On May 29, the season for the National Park Summer Card for your holiday in the holiday region Nationalpark Hohe Tauern becomes valid.
With this all-inclusive card, guest from participating partners enjoy more than 60 attractions such as sights, museums and natural sights free of charges as well as use leisure parks, sports centres and numerous lifts for free.
On top of this, the card offers a maximum of mobility. Public transport, amongst others, is free, so is the entry to the Erlebniswelt Großglockner Hochalpenstraße and the day ticket to the Gerlos Alpenstraße.
The National Park WinterCard enables many advantages at numerous attractions in the region. Enjoy the variety of favourite places and embark on your personal winter journey of discovery in the Hohe Tauern National Park.
An exciting programme attracts nature lovers, active holidaymakers and families alike to the idyllic landscape, whose beauty is unparalleled in the cold season. Experienced national park rangers take you on winter and snowshoe hikes. And ski tourers also get their money's worth in the Hohe Tauern National Park: the tranquillity of the mountains invites you to relax in the fresh air and listen to the sounds of nature. Meanwhile, you climb alpine terrain and are rewarded with breathtaking panoramic views and a beautiful descent through firn or deep snow.